Maybe it's Spring fever or hearing all of the birds calling to each other. I was excited about my bird's nest Easter cards and had recently seen some wire bird's nest pendants somewhere and was drawn to them and wanted to try making one. As things often do with me, one thing led to another!
As you can see, I made more than one. For the "how-to" on the wire bird's nest pendant, I'll point you to
You Tube
which has tons of tutorials. This post is more about what I did with one of the pendants I made.
Included in my Design Team supplies from Blue Moon Beads were these very cool copper leaf clasps. I loved them immediately but hadn't felt the right project for them until I started playing with the nests. What goes better with a bird's nest than leaves? I also had some antique silver and copper chain in my supplies.
I decided to use some of the clasps not as clasps, but as focal pieces in the necklace and joined them together with jump rings. I did use a clasp as it was intended:
attaching lengths of the copper and silver chain to it using copper jump rings.
I had some leftover chain ( necklace measures about 20 inches) so decided to make a matching bracelet. Attached the chain to the leaf clasp, and then just added some of the beads from my nest and charms I had on hand.
The other nest pendant I made I just attached to a ribbon necklace using a silver bail , also by Blue Moon, and antiqued glass pearls for the eggs.
These little wire nests are very forgiving since like real nests, they are not meant to be perfect and they all have slightly different bends and twists. They're also very addicting!
Sharing At: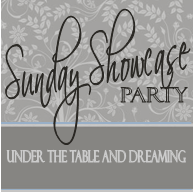 Disclosure: I am a member of the Blue Moon Beads design team and as such, receive supplies from them to use. Designs and opinions are my own.