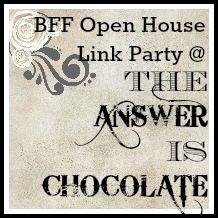 It's time for weekly fun here at The Answer Is Chocolate. Thanks to all the regular and new linker uppers for continuing to make this such a fun party. Winner of the "Dear Lizzy" cards I had up last week is: Linda from
Our Mush Push
! Second order of business: a few of the highlights from last week:
Can you guess what these are? If you guessed gorgeous grown up fun bubble blowing wands, you're right. Is there anything more fun at any age than blowing bubbles? I think we could all use some more bubble blowing in our lives. Visit Rena at
Jewelry Making Journal
to get the how to details.
This paper medallion from Laura over at
The Shed
would be a great addition to any party...birthday, shower, Mother's Day brunch. You can blow bubbles at your party too with the wands you make from the first link :)
It might be too late for this Easter but you can definitely pin this for next Easter. Make your own gorgeous chocolate egg. Aimee from
Twigg Studios
will show you how. Swoon!
My "baking bucket list" includes Macarons. Check out these Cadbury Creme Egg Macarons that new linker upper
Tried and Twisted
shared. New blogger, so let's give a warm bloggy welcome.
OK, now onto this week's fun. Following is not required but I love finding new blogs so if you are a new follower, please be sure to leave a comment and I will be over to visit and follow back.