You may have noticed a buttton on my sidebar that identifies my blog as participating in "Stashbusting September". This is the brainchild of Robin over at her blog The
T-Shirt Diaries
. Robin hosts a regular link party called
Upcycled Awesome
which, as the name implies, is focused on projects that are re-purposed, re-invented, upcycled, etc.
A logical extension of re-using stuff is using the stuff we already have and the worst kept secret among those of us creative types is we tend to have tons of ahem, "stuff". And I don't know about you, but as much "stuff" as I have, I can always buy more. So I was hesitant at first to sign up for Stashbusting September, wondering whether I could resist the lure of the JoAnn's and Michaels 40 and sometimes even 50% coupons, or the pull of the Dollar Tree and Goodwill and I decided I definitely
should
, and I could. We'll see about that!
No
new craft supplies or thrift store pickups in September! EEEEK!
There's still time to sign up to be a "Stashbusting" blog...You can check out all of the details and see the other 34 bloggers who are participating
here
.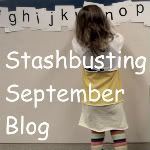 And Robin knows we are mere mortals so she's made provisions for an "oops". Not that I'm planning on needing this button or anything.