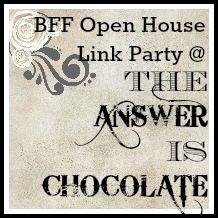 Happy Friday Eve everyone. Can you believe it's the last weekend in June already? Even scarier, as of yesterday it's six months until Christmas! You know before we blink we'll be seeing Fall and Halloween supplies in the stores if they're not there already.
But, it's still very much Summer and here are some ideas from last week's party to celebrate this fun season.
How cute is this SUMMER painted block set from
Home.Made.Interest
complete with flip flops for the "U"? Think of all the color combinations.
Complete a fun Summer outfit with this ombre striped clay pendant from
The Crafty Scientist
. Make one, give one.
Summer is prime garage sale and flea market shopping season. While you're out and about, look for the components to make this fun suitcase table bar. I have seen suitcase end tables for around $1,200 which is way far away from the price Kim from
Made In A Day
paid for her table top.
This week's chocolate feature: Chocolate Banana Muffins from
The Pin Junkie
. Great way to have your chocolate with some extra fiber and potassium and use up those inevitable extra ripe bananas.
Let's see what you've been up to this week!