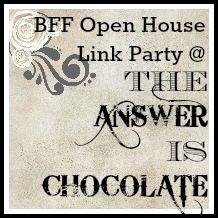 Friday eve again! And not only Friday eve but Father's Day weekend Friday eve! First, to all the Dads in your lives, Happy Father's Day. In case you need some last minute inspiration , here are some Father's Day features that might come in handy ( or can always be pinned for when you need a guy idea throughout the year).
My readers know I love to make cards. These, from the guys at
Crafty Lumberjacks
are just too perfect for Dad's day!
If you can't find something at these next two roundup features, I'm not sure there's a gift out there for you!
This one from
Crafty Journal
(includes printables, things kids can make etc.) or
For the Dad with a sweet tooth this week's chocolate feature should satisfy:
OK now on to this week's party!