Whew! TGIF and you know what that means... it's time for
BFF: Blog Feature Friday !
This week I'd like to introduce you to a blog called:
and the blogger behind it, Sasha. Sasha is a busy young woman ( I could be her….older sister let's say!) who not only has a fun blog, but a custom
scrapbook business
, is an independent Memory Works consultant, and she's an avid photographer and a participant in "365 Days: My Life Through Photographs".
In addition to all of this, Sasha hosts a weekly link party on Mondays called:
where you can link up for anything DIY: Photography, Recipes, Sewing Projects, Crafts, Scrapbooking, Cards, Paper Crafts, etc., as well as: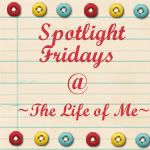 where Sasha is paying it forward in the blogosphere by highlighting a blog each week that inspires her. Whew! Busy young lady!
If all of this isn't ambitious enough , she's also set a goal for herself to accomplish 101 things in 1001 days!
She's got it organized in specific categories and is updating her list on her blog as she goes. I think this is a bold thing to do…putting it out there for all the world to see so good for you Sasha!
Happy Friday everyone and thanks for joining me for another BFF!