The thanks for this goes to Bethany over at
Pitter and Glink
who linked up her amazing tutorial at this week's BFF Open House ( still open
here
). Bethany has a step by step tutorial on how to make your own wallpaper for the iPhone. Her detailed and easy to follow instructions are sized for the 4/4S. The dimensions for the iPhone 5 are 640x1136 pixels. And yes, Bethany's tutorial tells you how to get the image ON your phone :)
I happened to get a new phone for Christmas and just set it up a day or so ago so the timing of this was perfect!
Bethany used PicMonkey for her tutorial so that's the first thing I tried when making my own and made these. I used some free digital backgrounds I'd downloaded and then options within PicMonkey. SO easy!!!
I had so much fun with them, that I decided to play around in
My Memories Suite
and made this one:
I think I may have a new addiction. Thanks Bethany for sharing this!!
The Eiffel Tower image is a free png file I found at
Free Vintage Digital Stamps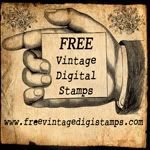 Sharing At: