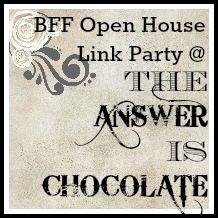 Happy Friday Eve all! September is speeding by just like all the prior months have . Can't believe we are halfway through the month already! Fall is definitely in the air so here are some inspiring ideas from last week's party!
This is a wonderful sign ( love the gold glitter letters) to welcome Fall and have up all season. Becca at
Tulips and Orchids
has a great tutorial.
Here's a slightly different take on a gallery wall from
Artsy VaVa
....she's been doing needlepoint since she was a girl and has expanded her love for the art to picking up coordinated pieces at antique stores, tag sales, etc. to complete a needlepoint gallery wall.
This week's chocolate feature, just YUM! Mezzaluna ( half moon) Chocolate Covered Pastries from
Woods of Bell Trees
.
Now on to this week's party!