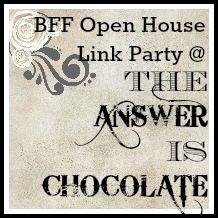 Happy Friday eve all! Another whirlwind week ( say that three times fast!). We'll get right to features from last week's party and then on to this week's!
Let's start with this truly out of the box and "over my head" idea....Using a stretchy headband to make a necklace! This has so many possibilities. llar and It's like a conecklace in one. See
Jewelry Making Journal
for the details where Rena shares some other options including how to wear this idea as a 1920's inspired headband!
Jenn over at
One Thrifty Chick
has a monthly craft club ( and you should visit just to see how much fun she makes it for her guests) and in June she focused on crates. I love things that are pretty and functional and crates are perfect! Great idea for gift presentation too.
Heather over at
Woods of Bell Trees
has an easy to follow tutorial on making simple but stunning earrings. With gift giving season gearing up, you could whip up several pairs for friends and family!
This week's chocolate feature is a Summer favorite w/out a campfire required. Accidental S'Mores Fudge from
Laina Turner
!
OK now on to this week's party!