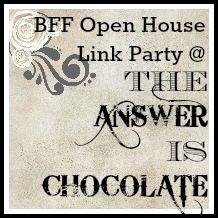 Hi all. Hope everyone had a nice Labor day and a good week. Fall is definitely upon us and there were some great ideas shared at last week's party! This time of year it's fun to change out or add a wreath and pumpkins are a decorating essential. I may not like eating pumpkin but can't get enough of decorating with them!
I have long wanted to make some velvet pumpkins and even saved stems from last year's real pumpkins to use. Heather at
Woods of Bell Trees
has a great tutorial and I love the colors she chose. These are so elegant and can be out through Thanksgiving!
Logan, at
Logan Can
shared a great tutorial on how to make a burlap wreath. Think of all the color combination possiblities with ribbons you can use!
If you want a little spookier look, Rhonda at The Messy Roost has the perfect idea using eyeballs from Dollar Tree!
I agree with Rhonda. The "eyes" have it!
Who says pumpkins have to be round? I love these 2x4 pumpkins from
Alayna's Creations
. Again so many possibilities...paint, paper, stencil...all three?
Now on to this week's party!