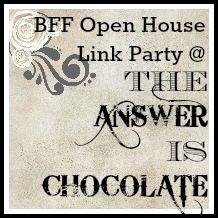 I blink and it's Friday eve again. Seriously I am living the movie Groundhog Day which will continue for a while and I want to thank you all for continuing to link up despite the fact that I have had NOTHING to share on the blog lately :(
Some fun ideas from last week's party!
Heather from
Woods of Bell Trees
just never runs out of brilliant ideas. I mean never. Would you have guessed that these gorgeous cups were made using temporary tattoos? I have seen these tattoos when I manage to make it out of my home office lately but would not have thought of putting them on drinkware!
I think those tattooed cups would look great on this coffee table tray from
24 Cottonwood Lane
. How crisp and fresh is this?
I adore this end table makeover from Kris at
Aurora Patina
! You really have to see the table she started with to get this incredible result. Tres chic!
OK I have a spoiled rotten dog but this pet bed from
Artsy VaVa
takes things to an entirely new level. It has a CHANDELIER...a chandelier people. Again, you need to go see the before to be even more impressed with the after.
OK now on to this week's party!