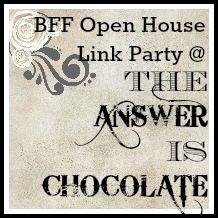 Happy Friday Eve and end of the first week of December. Time's flying by and hope everyone's getting their decorating / baking / shopping / wrapping done for Hanukkah and Christmas.
Here are some features from last week's party and can't wait to see what everyone's been up to this week!
OK so Mariah from
Giggles Galore
linked up the very cool deer mugs she included in her very cool hot chocolate basket, BUT I had to include the whole c basket for full effect because it's a totally awesome gift idea. She used her Cricut Explore ( Aren't you seeing lucky bloggers everywhere sharing awesome things they've made with this new machine? Can the Cricut people feel my mental telepathy sending out pick me to try one out vibes? Oops I digress)
Michelle from
Fitting In Life
doesn't think she's creative but I have to disagree. In this season of thinking of other people she put together a gift to cheer up a friend . Hers uses an adult beverage but if the harder stuff isn't your thing, you could easily do sparkling cider, soda, etc. Both thoughtful and creative. Sorry to break it to you Michelle, you are creative and you are going to have to get a glue gun now. It's in the bylaws.
Jenna from
24 Cottonwood Lane
is back with a super easy DIY wreath. Supplies from the Dollar store. I love how the pattern repeats and is so crisp and clean!
OK on to this week's party!