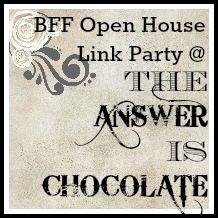 Happy Friday Eve all. Hope everyone had a wonderful and lucky St. Patrick's Day! Easter will be upon us before you know it. Here are some ideas from last week's party to pin and try!
While we've had a mild Winter, I know most of the country is more than ready for Spring.
Artsy VaVa
has a perfect way to get ready with this Spring wreath.
With Spring and more outdoor sports and play, boo boos are bound to happen.
A Creative Princess
shared these adorable "Boo Boo Bunny" ice packs. Who wouldn't feel better immediately with one of these?
This wood bead garland from
Woods of Bell Trees
would be perfect for a Spring mantle or draped around anything. I love the combination of the wood beads and mini lights.
This week's chocolate feature is from
Gator Mommy Reviews
. Classic chocolate and peanut butter combo. Perfection.