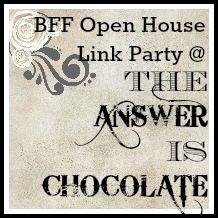 Happy Friday Eve all! Welcome to another party here at The Answer Is Chocolate. Some wonderful ideas linked up at last week's party. I hope when you link up you're visiting each other. Here are some highlights:
Heather from
Woods of Bell Trees
has a wonderful series going called "Party In A Box" . So many ways to adapt this from parties, showers, housewarming, just because. It is a great idea for prime gift giving season!
Over at
ArtsyVaVa,
you'll see that the creative apple didn't fall far from the tree. Check out this table that her son made! How cool is this?
This week's chocolate feature is perfect for your Halloween dessert table. Best of all there's absolutely no way to mess it up!
Now, on to this week's party!