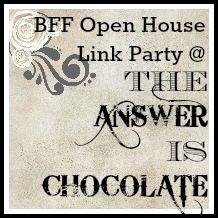 Happy Friday Eve all. It's been another whirlwind and not so crafty week here at The Answer Is Chocolate so I've looked forward to the party all week to live vicariously through all of your creative projects!
Here are a few highlights from last week!
While this is Easter themed, the ladies over at
Something Splendid
have a fun and easy table runner project that could be adapted to any theme.
Rena over at
Jewelry Making Journal
has another spectacular tutorial to share. With Mother's Day coming up soon, this would make a great gift and no fancy tools required! Plus I love what she named this.
It's no secret that I love making cards, but I also love puns...one could say I'm punny that way ( everybody groan now). Julia at
It's Always Ruetten
as a fun all occasion card to share.
Who else remembers the Oreo cookie
commercial jingle
"Ice cold milk and an Oreo cookie..." ? If you do remember it, you can thank me for that ear worm that's now stuck in your head! Well Oreos could only be better stuffed in brownies am I right? You'll want to check out Kay's recipe over at
Love Food , Will Share
.
On to this week's party!