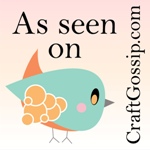 I love Paper Source. It's like a candy store of papers. But just like a candy store, I can't have everything in it. Well I could, but I don't think I'd feel too good after! So while in there the other day, their wreath kits caught my eye but being "us", I also had that moment of ( stealing this from my friend Christine @ Christine & Co) ICTMTM ( I Can Totally Make That Myself) or at least a version of it. Here's one of theirs:
which sells for $19.50. That's a lot of candy, I mean paper, for me. I didn't necessarily want an exact replica but I liked the idea. So I went to my cardboard stash ( recycled cereal boxes) for a base:
and cut out two "wreath forms" which I stuck together for stability. Then I went to my
candy
paper stash and chose the papers I wanted:
I cut my papers into 4x5 pieces and then folded in half down the longer side using my bone folder . I drew a holly shape freehand and cut out the leaves. I think I cut out 18. Then I started hot gluing them to my wreath form:
and went around until I filled the wreath form. For the "berries" I punched out gold circles from some scrap cardstock and glued some even with the leaves and used foam dots to give some dimension to others and finished with some gold adhesive rhinestones:
I haven't decided whether to hang this or leave it on my mantel where it is now so I didn't put a ribbon on it. And while my leaves are bigger than the Paper Source Wreath , I think it works?
Linking Up At: