Welcome to those stopping in from: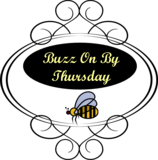 Yes I'm awake, and no, I haven't been drinking or taking heavy doses of cold medicine. Imagine my surprise when Suzy, from
Suzy's Artsy Craftsy Sitcom
, asked ME for an interview and told me I was going to be a guest star in her recurring Wednesday feature ?!
If you've never visited Suzy, you need to fix that. Not just because she has my interview up but because she is hilarious and why she's not actually writing for a sitcom ( or is she???) I don't know. And, as her blog name suggests, she's Artsy Craftsy so there are some great projects to accompany the humor. Oh and Tom Selleck. Just sayin'.
I'd like to thank the Academy ( I don't care if "we" haven't won an Emmy yet) and of course Suzy!