because Steph S, from
"A Day In The Life Of A Grad Student's Wife"
has presented me with another
"Versatile Blogger"
award! Thank you so much Steph!
UPDATE: Jessica, from
Caterpillar Family
passed this on to me the next day so I'm cheating a bit and combining it with Steph's.
Steph has a lovely blog and right now she's got a feature called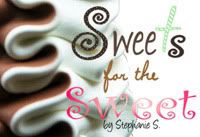 and a picture of my favorite drink in the entire world, a Starbuck's Iced Mocha, so you know we get along fine! And she has an
etsy store
with some very cool signs.
So now on to the rules of the award and I have to say, I have a dilemma. I have been fortunate to receive a few of these lately and since you have to tell 7 things about yourself and I am just NOT that interesting, I'm going to modify this a bit. I have mentioned that I can relate almost anything to a movie so I'm going to list the 7 movies I've seen at least 7 times!
"The Godfather"
"The Godfather Part Two"
"Steel Magnolias"
"The Color Purple"
"Terms of Endearment"
"Rocky"
"The Hunt For Red October"
How's that for versatile? And now to the 15 bloggers to whom I'm passing this on:
Please go check out these wonderful blogs! Thanks again Steph!