Monday holidays always mess me up because I'm one day off for the rest of the week. So my brain says it's Monday but the calendar clearly says Tuesday which means it's time for Tuesday blog hopping. Thanks to anyone stopping in from :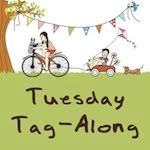 Here's a card made for my Auntie's Birthday:
Basic 5x7 cream card (I made mine from Domatar Feltweave Cardstock)
Cut 5x7 panel from "Me & My Big Ideas" Venice paper ( I love their papers because they're double sided); adhere to card
Paper flower made from coordinating scraps ( cut descending sized circles, tear edges, scrunch and layer)
Coordinating acetate strip from stash; layer to scrap of cardstock same width as card with edges torn
Sentiment. I like to minimize waste / maximize use of my supplies so I created a page of birthday sentiments in my desktop publishing program and printed it out on a transparency. I think I fit 15 different birthday related sayings in different fonts on one sheet so I can just cut them out as needed.