Hope everyone had a wonderful July 4th weekend. We did, and yet I was antsy that I couldn't blog or check blogs...Houston, we have a problem! Ate way too much, so this week will need to be a healthy one ( OK they all should be but...). Yes it's July and here's this crazy woman talking about Christmas!
Just a reminder that I'm having my first every linky party on July 16 and thought it would be fun to have a Christmas theme. I still haven't gotten into the sponsor thing ( if anyone's interested, I'm interested) but there will be a giveway...Christmas themed of course!
For those of you in parts of the country that are actually having Summer weather, it might be a fun break from the heat and it's never to early to start getting ready for Christmas, am I right? So: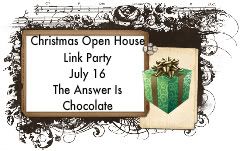 Home Decor Items
Cards
Ornaments
Gifts You're Making
Recipes (especially chocolate!)
Whatever you want as long as it's Winter Holiday themed
Doesn't have to be for this year because look at how many new bloggers there are since last Christmas!
Hope you will come!