I'm sure normal people just go on vacation but not me. Maybe it's knowing that I'll have limited time to make things while I'm on vacation that I have to make things
for
my vacation? So I'm either prepping projects I can work on while on vacation or making things to use on vacation. Anyone else do that? One of the things we like to do is keep track of the things we do on our vacations. It's easy to think you'll remember so that when it's time to scrapbook that vacay, you'll just know but HA! The older I get, the easier that sounds and the harder it is. So I started keeping travel journals which I can refer back to when doing my scrapbooks or when I just need a mental vacation. This time of year is perfect to find these:
And, as you can tell by now, if they're on sale like they often are at back to school time...I buy multiples! I think I got this last year as a pack of 2 and they were 2 packs for $1 or something.
Trace the shape onto your choice of scrapbook paper. I went outside my usual neutral pallette:
and cut out a front and back cover in coordinating papers. I Mod Podged these onto the composition book and tore some other coordinating papers to collage on. I had some chipboard frames I picked up on clearance that I covered with a scrap of the coordinating paper:
I didn't want to put a lot of heavy embellishments on my journal because it was going to be in and out of my bag so I used a combination of rub-ons, clear alphabet stickers, and things left over from other projects that were printed onto clear label paper to decorate. Of course I couldn't leave it blingless, so I had to put some self adhesive rhinestones on it :)
Welcome to those stopping in from :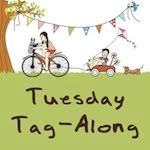 Update
to respond to a question from the comments:
I tore a wide strip of a third piece of paper to cover the spine. Applied Mod Podge to it and folded it over the front and back so about 1/2 of it shows on each side. Hope that makes sense!
Linking Up At: