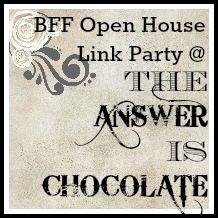 Happy Friday Eve all ! Time to link up, visit, and ooh and aahh over each other's creations.
If like me, you're still transitioning from holiday to Winter decor here's a fabulous idea from
Much More Creative
you'll want to check out. Simple, elegant and fun!
If you're done decorating, how about a new necklace for yourself? I see another trip ( and a confused store employee) to the HW store in my future with this Rustic Copper Washer Necklace from
Jewelry Making Journal
.
Speaking of jewelry, if you wear a lot of Silver one thing I'm sure you hate is having to polish it.
Woods of Bell Trees
has some great hints on storage that minimizes tarnish so you can spend less time on polishing and more time on fun stuff!
I think all of us are trying to eat better but if you're like me, it doesn't work when you feel deprived. How could you feel deprived with this single serve Peanut Butter Brownie from Sam at
Pancake Warriors
( and how could you not love a blog named for Pancakes?!). Have you heard of Peanut Butter powder? I hadn't but DEFINITELY want to check it out.