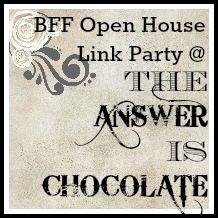 Happy Friday Eve all! I know several of you are busy with back to school or getting ready for back to school. I'm ready for it to be Fall. I'm ready for boots and sweaters. Don't hate me!
Thanks for continuing to share such great creations and ideas. Last week was no exception!
Alayna's Creations
shared something that's beautiful, thoughtful and timely. I don't think any of us are untouched by cancer somewhere along the way and she made this beautiful gift basket to cheer up a family friend. I have to do a close up of one of the things she included because I just learned about a friend of mine's diagnosis and need to do something similar!
The always creative
Mich in LA
shared beautiful "Victorian Mod" jewelry. Being the overachiever that she is, not only did she make some gorgeous pieces, she made the fused glass pieces she used in the jewelry!
Isn't this beautiful? Unlike mere mortals like me who just buy the fused glass pieces, she made hers!
This woman never ceases to amaze me.
Speaking of amazing, how about this stenciled wooden window cornice from Bharati at
Techie's DIY Adventures
! I have an inlaid box that looks similar to this. She captured the depth and dimension so well.
How scrumptious does this look ! Double Chocolate Butter Cookie No Churn Ice Cream from
Woods of Bell Trees
! Did I mention NO CHURN??? If you can't have / don't like chocolate you can just forego the cocoa powder.
OK now on to this week's party!