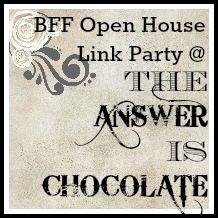 Welcome to another party here at The Answer Is Chocolate. Happy Father's Day weekend and I hope everyone celebrating has a wonderful weekend.
Here are some features from last week's party I think you'll enjoy!
Check out this idea from
Much More Creative
...both the finished project and the technique are wonderful! The idea is perfect for Father's Day and the technique used to create it is limitless in possibilities.
I do not have a green thumb ( Martha and I part ways in the garden) but succulents seem like something even I might not kill. This centerpiece from
Upstate Ramblings
is perfect for a Summer table.
Mich in LA
is a creative genius and upcycler. Not only does she use mystery findings in her gorgeous jewelry creations ( and then makes you guess what they are and they're NEVER what you think) but she's figure out a way to upcycle ..... into jewelry holders. Oh you thought I was going to tell you?
Having just eaten my way through I mean visited Disneyland, I somehow missed dining at The Big Thunder Mountain Ranch Barbecue where they serve this take on S'Mores. Want. Now. Get the inside scoop from
The Disney Chef
.
OK now onto this week's party!