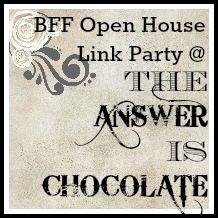 Happy Friday Eve all! One weekend until Father's Day so this week's party will feature some ideas for any of you still trying to think of something for the special Dad / Hub / Brother / Son / Father Figure in your life.
How about this wrench frame from
Muchmore Creative
? What a fun idea and you could easily pick up rusty wrenches at a garage sale or maybe even the dollar store. Just DO NOT raid the tool box for these!
If you don't want to DIY, you could also check out this great roundup of ideas from
Lamberts Lately
.
When you make that wrench frame you could whip up one of these cards to go with ( or maybe even put in the frame) .
Crafty Lumberjacks
has the how to.
And how about a special dessert ( chocolate of course) for that special Dad ? Coca Cola Ice Cream Cake from
Gator Mommy
!
Now on to this week's party!