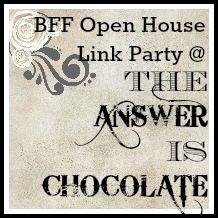 Happy Friday Eve everyone. Can you believe tomorrow is May already? I cannot. I will get the best Mother's Day present possible...watching my "baby" graduate from college later in the month. Nothing can top that. I am also going to have to come up with something new to call him besides College Boy. More on that later.
Let's see some features from last week's party.
This is a gorgeous card any mom would be thrilled to receive. Perfect for weddings or birthdays or multiple occasions. Visit
Craft With Cartwright
for the details.
Here's another card. Love the clean construction and I especially love the story that goes with how this card came to be. Visit
Paper Seedlings
to find out.
With Graduation season upon us check out this modern and chic alternative to a traditional class ring. Visit
Jewelry Making Journal
for the how to .
And this week's chocolate feature should come with a warning label.
Now let's see what you've been up to this week!