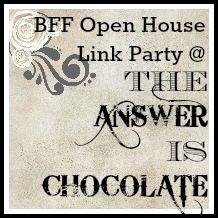 Happy February everyone. 2015 is clearly going to move at a rapid pace! Valentine's Day is just about a week away. It seems like it was just Christmas doesn't it? Let's see some LOVEly ideas fom last week's party!
Julia from
Always Ruetten
shared her adorable lovebird wreath. So cute!
I know I said this when I featured
Artsy VaVa's
last iteration of the evolving chair ( and maybe even the iteration before that) but everytime I think she's done, NOPE! Look at the Valentine's version!!!
I also love the simplicity of this felt garland from
The Gracious Wife
. I think the berry beads between each heart really make it pop!
Finally, these peanut butter chocolate heart cookies from
The Pin Junkie
would be a perfect addition to your Valentine's treats!
Now let's see what you've been up to this week!