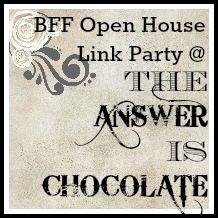 Hi all, welcome to another party here at The Answer Is Chocolate. The countdown to Hanukkah and Christmas continues . Hope those of you dealing with Northeast storms are holding up. We here in the PNW are bracing for a doozy of a windstorm tonight so hoping the power stays on!
Here are some features from last week's party!
I love paper. I love roses. I love paper roses...you get the picture. So does Kelly at
The Moon and Me
who made these gorgeous rolled paper rose trees. So pretty.
These vintagely delicious Altered Readers Digest Books from
Artsy VaVa
would go perfectly with Kelly's trees.
The always genius
Mich in LA
has a fantastic idea using vintage brooches. You'll have to visit her blog for the secret ingredient she used for the background of these fun ornaments.
This week's chocolate feature looks good enough to eat but is not edible...Chocolate candles! How cute are these? Cost is even better. Head over to
The Pin Junkie
to find out more.
Now on to this week's party!