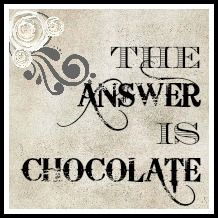 Happy Friday eve once again . I can't even tell you how excited I am this week because COLLEGE BOY comes home on Sunday! He spent most of the Summer at school doing an internship (paid yeah!) and he'll be home for a break before his Junior year begins. Can't believe I just typed Junior year either. Yup.
Let's take a look at some great ideas from last week's party.
Burlap hates me. I mean it really does. Every burlap project I try looks like, well, we'll keep it G rated. Laura from
The Shed
has inspired me to try once more with this fun monogram project using burlap, paint and board.
I love PicMonkey and I love learning how to improve my photos. Bethany from
Pitter and Glink
does too and has some wonderful tips to share.
I've been a lifelong gift wrapper. Can't imagine giving a gift that's not wrapped. Still, I don't think you have to break the bank to make it special. Christine from
I Dig Pinterest
has some tips and ideas for pretty (and fast) packaging.
My chocolate feature this week combines all my faves: chocolate, coconut, chocolate. Isn't the best part of an ice cream cone the last bite? And a chocolate cone? Go visit
Pint Sized Baker
for the details.
Now on to this week's party! Let's see what everyone's been up to this week.