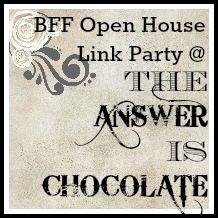 I debated about whether to have a party this week because it certainly has not been a celebratory one. My heart continues to go out to Boston and West Texas. I'm always amazed at how quickly the creative community responds to a tragedy. Whether it was Socks for Sandy, Snowflakes for Sandy Hook, the responses to previous natural disasters, there is a way to channel our creative energies.
Emily from
House and Hone
is already on the job and has announced a doll drive for the children in Texas. Please click on over to her place for the details.
As always there were some wonderful ideas shared last week. Here are just a few:
Karyn, at
Pint Sized Baker
claims she's not a cake pop goddess but who is she trying to kid? She's amazing and College Boy would go crazy for these being a self confessed comic geek!
I love easy and I love Dollar Store finds. Christina and Rebecca from
Dear Beautiful You
combined the two and made these cute dessert stands. You really need to check out the party they used them for too!
I'm not much of a gardener or a plant person but having something alive and growing always makes it feel like Spring. Jamie from
The Creative Imperative
has some great terrarium ideas that I think even I could handle.
Carolyn from
homework
combined a Dollar Store find, a crackle paint technique and jewelry pieces from her stash to make this gorgeous Spring succulent pot.
Finally, this week's chocolate feature is from Debbie at
Made From Pinterest
. I've only ever used these wafer cookies as a cheesecake base but here's an easy and yummy idea Chocolate Wafer Stack Cakes.
Now, on with the party. If you're new to linking up, please be sure and leave a comment. Following isn't required, but I do love meeting new bloggers and like to follow back. Thanks for spending some of your time on my little chocolate covered corner of the internet.