Don't know about you, but weeks that start off with a Monday holiday really throw me off. Not complaining mind you but it's Friday already?! Lots to cover at this week's Open House here at TAIC.
First…I'm very excited to feature this week a brand spanking new blog that will officially launch itself on Monday July 11. Fun will be had by all because the ladies behind this are each wonderfully creative on their own and now they've teamed up to create a new online community! Introducing: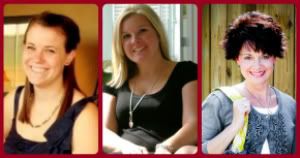 Left:
Lauren
Center:
Gina
and Right:
Chrissy
Do you love the handmade community (Yep!)
crafting (Oh yes)
sharing your creations (Affirmative)
chatting with others about all things handmade? (Roger that)
Do you love to try new crafts (Do I like chocolate?)
perhaps you have a stash of fabric (check)
rubber stamps (I plead the 5th)
buttons ( I might have a stash or five jars)
You get the point! These gals are creative and they're getting together to create an online space where other creative souls can gather. There will be tutorials, features, sharing, and tips on growing your handmade business. They're going to have a weeklong kickoff starting Monday July 11 so go visit, check things out, find out what Scatter Girls is all about! You'll also have to go if you want to know which one of the Scatter Girls loves Hershey's Nuggets with Toffee and Almonds, which one loves to sew, and which one specializes in handmade wine accessories.
OK on with the party! Anything goes…as long as it was made or made over by you. If you can sand it, paint it, glue it, glitter it, or cover it in chocolate, link it! Just no advertising or Etsy shops please.
And FINALLY, as I posted earlier in the week, to
celebrate
my recent and exciting bloggy good fortune, one of you will win these:
A set of six handmade notecards. Just a little thank you from me to you. To be eligible to win just leave a comment. That's it! Winner will be selected by random.org on Monday July 11.
Now really on with the party!