Mod Podge
. True to my deal hunting ways, I picked up several more of the eggs I used after Easter when they were on sale for $.49. Michaels has them again this year and even at regular price they're $.99:
I had an idea in my head ( uh-oh) that I wasn't sure would work but I figured the most I was out was $.49…not a big price to pay. I slapped some Mod Podge on the egg and then smooshed some torn tissue paper on. Continue the slap and smoosh. The tissue drinks up the Mod Podge and it's really easy to blend the edges so you don't have seams. Better if you tear your tissue. Just regular old tissue that some stores give you way too much of and you don't throw it away tissue.
For this one I only covered the top half of the egg because the plan was to cover the bottom half with twine. Once this was dry, I painted it with acrylic craft paint in a robins egg blue and then dry brushed it with white and taupe. After that was dry I started in the middle with a dab of hot glue and started wrapping the rest of the egg in cotton twine. That took the longest but it's pretty self explanatory.
To finish, I tore a strip of muslin, wrapped around the middle and tied a dragonfly charm to the knot with more twine. I added Prima paper flowers, a button, and a self adhesive rhinestone.
I made a second egg using the same process only this time I covered the whole egg with tissue. I went around the middle of this one with a K&Co scrapbook border ( Flora and Fauna) , a strip of muslin, another brass charm, and small paper flowers ( Kaiser Scrapbook) and coordinating rhinestones:
Here are both of them in an alabaster footed bowl ( cobbled together from Salvation Army finds) :
I'm "egg-static" with the outcome!
Linking Up At: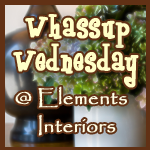 Blue Cricket Designs