Thanks everyone for linking up to the February Open House link party at The Answer Is Chocolate! As always, there were some fantastic ideas shared and I'm going to highlight a few but I loved them ALL!
First though, since Shannon from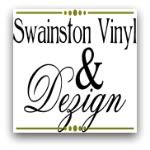 Swainston Vinyl and Designs was so sweet to sponsor a giveaway this month, let me announce the LUCKY winner of her awesome Irish Blessings sign and $20 Gift Certificate to her shop:
You had to leave a comment to be eligible so the lucky winner is commenter #22:
Caroline from:
Congrats Caroline! I will give Shannon your email so you two can work out the specifics!
A few highlights from this month's Open House:
Crystal, from Crystal's Clocks,Crafts and Vinyl shared this fun St. Patrick's Day idea:
Antonella, from Quilling, Art and Expression shared her amazing quilling talents with this gorgeous butterfly:
You will never guess what Suzy from Suzy's Artsy Craftsy Sitcom used to make this filigree frame:
And of course I have to have a chocolate feature. Jocelyn from Inside BruCrew Life just had to tempt me with these:
Again, thanks to everyone who linked up and I hope you'll come back again next month on March 18!