Welcome to "BFF" aka Blog Feature Friday! This week I'd like to introduce you to a fun blog called: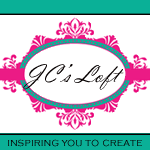 and the blogger behind it, Paula. Paula has lots of fun projects and congratulations are in order because she has just completed her very first PAID party planning gig. Woo hoo!! You can see why I'm sure this won't be her last. Here are some pics from a bridal shower she recently did:
Paula also does some great décor projects like this faux lamp tutorial:
You will just have to go visit to see the tutorial and you will want to make these!
And I'll bet you can't guess what this gorgeous vase started out as:
And look at these cute and creative treats she did for her son's first birthday! You HAVE to go see the whole thing, but here's a peek:
So if you need some inspiration, party ideas, or just a creative pick me up, please go visit Paula! You will be glad you did.
Welcome To Those Visiting From: