Got a little off track last week. I blame it on the tryptophan, but back on schedule this week to feature a blog that's newer to me and I want to share with all of you. This week's BFF is
Gwenny Penny
named for its founder Gwen.
Gwen describes herself as:
A full-time mom of two little girls with an insatiable desire to make stuff.
I can totally relate to that insatiable thing! And I found out that she and I might just share a brain ( although she got the math smarts because she's a former math teacher) when she said this on her blog:
I absolutely love fabric and paper. I have stashes of both that have never been touched because I don't want to cut into them. I am working on getting over this.
Me too Gwen...me too...then every once in a while I say: "you just have to cut cut cut!"
Gwen's blog is full of great ideas like this perfect for the holly-days holly wreath:
and
which kicked off a great series she's got going through December 10 called: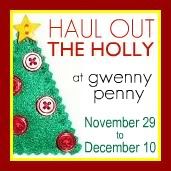 .
Definitely check that out because there are some great guest posts and tutorials in addition to Gwen's own projects! She also does printables, like this really cute one she did for Autumn:
Gwenny Penny
!