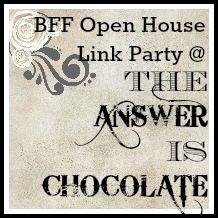 Happy Friday Eve and Happy Birthday to College Boy! We are the ones who got the best present ever when he was born. I have not done a whole lot in the way of creative things this week ( OK I've done zip, nada, zilch!) so was excited to see what you all had been up to. Here are a few highlights:
Black and white and glitter? Yes Please! Love this Valentine's canvas from
Her Organized Chaos
. Sorry Mr. Chocolate ...like the Terminator, the glitter "will be back".
This fabric flower lampshade would look great alongside that Valentine canvas or on its own. Visit
The Heathered Nest
for the how-to.
Maybe you got some new baking pans for Christmas? Don't throw out the old ones ( or hit up a thrift store for some inexpensive ones). See what
Pet Scribbles
did with an old cookie sheet!
This week's chocolate feature is from
Gator Mommy
: Snickers Brownies. Snickers are yummy. Brownies are yummy. Snicker Brownies? 'nuff said.
Time to see what you've been up to this week!