Shortly before Christmas, I ended up having to replace my hard drive. Grrr. "Oh but you had backed everything up right?" No comment. Lesson learned. Better yet, learn from my mistake! Back up back up back up!
On the upside, it gave me a good reason to discover some new resources for graphics and fonts (as well as discover some new images at familiar places). On the whole , the experience was more good than bad. I thought I'd share some of my new finds as well as some of my go to regulars.
Creative Market
: This is
definitely
one of my new finds and fast
favorites
. It's free but you do need to sign up in order to use. Photos, graphics, themes, fonts etc. most of which are fee based, but the awesome part is that each week they release 6 freebies for you to download. The fonts are fresh and clean and the free graphics packs I've downloaded come with multiple elements. The magnolia wreath at the top of this post is from Creative Market!
Moritz Fine Designs
: "Free Printables for Your Home and Workspace" and where I found
500
, yes
500 free fonts
! No I haven't downloaded them all...yet. What I love is that they're grouped and organized so if you're looking for Typewriter Fonts for example, they're grouped together. If you're a font addict, you want to pin / bookmark this site.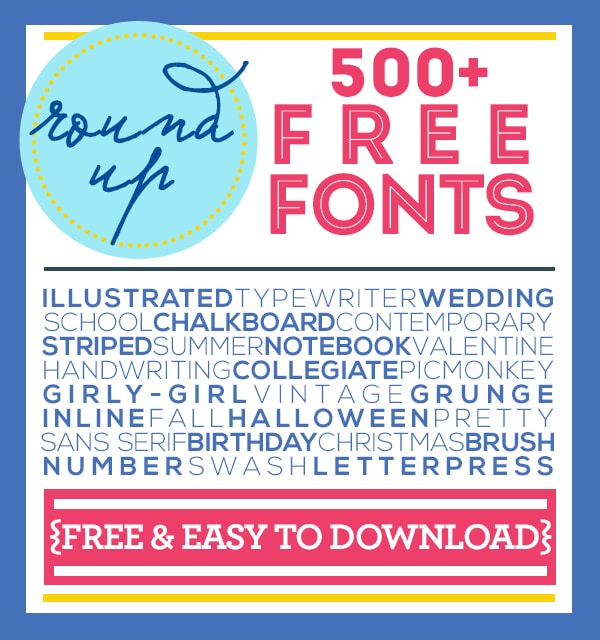 Star Sunflower Studio: In my search for fonts, I found this lovely grouping of
brush fonts
here but they have tons more! Again a site that's a combo of free and fee.
Expressions Vinyl
: In addition to being a resource for your vinyl needs, there's a fab collection of fonts at the Expressions Vinyl Blog!
Fontbundles.net
: Combination of fee and free and requires free account sign up. Fonts do expire so check periodically.
Other great font resources:
DaFont
(mostly free)
1001 Fonts
("Free fonts baby")
Fontspace
(free)
You can also follow my Pinterest board on
Fonts Typography and Hand Lettering
I also love these places I visited regularly before my hard drive bit it and am having fun re-building my library:
The Graphics Fairy
OK who doesn't already know about The Graphics Fairy?!
Free Pretty Things For You
Free Vintage Digital Stamps
The Old Design Shop
New York Public Library Public Domains Collection
Just Something I Made