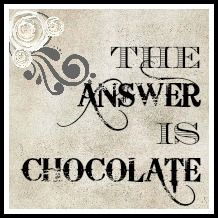 Happy Friday Even and Happy Mother's Day weekend all. Whether you're a mom or a mom figure to someone in your life, wishing you joy and happiness. I won't see my "baby" but my joy comes from knowing that he's working his heart out pursuing his dreams. For me, that's the point of motherhood. OK also knowing that I'll get to see him for a few weeks next month!!
Here are some features from last week's party a couple you can still whip up to celebrate a mom in your life.
This is not so much of a project as a fantastic idea. You need to visit
Saving and Simplicity
to find out what the idea is but I bet you will love it.
The mystery continues with this wonderful necklace idea from
Mich in LA
. I challenge you to guess what she used to make this. You won't. Trust me. So you'll have to go visit to find out.