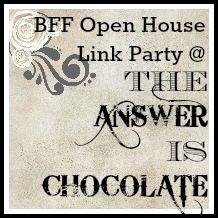 Happy Friday eve and welcome to the last BFF Open House of January. I'm hardly what you would call a football fan, but hometown pride is contagious so I'm excited to watch the Seahawks in the SB ( sorry Pats fans...gotta root for the hometown team).
Valentine's Day will be here imminently so this week's features have a theme. Let's start with these gorgeous treat bags from Bonnie at
The Pin Junkie
:
Sarah from
Ruffles and Rainboots
shared how to make a Celtic knot using paracord, something that has so many possibilities from using it in a jewelry piece, or as an embellishment on a pillow or as she did in a garland.
I recently saw a big glass growler and resisted it because I wasn't sure what I'd do with it ( not a beer drinker !) but Heather from
Woods of Bell Trees
has solved that. See her take on a Ballard Designs inspired project:
And how could I not feature these brownies which are perfect for this weekend? From
Simple Recipes Club
: Victory Brownies ! Whichever team wins, these will be a hit.
Now onto this week's party !