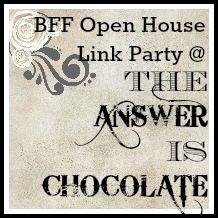 Happy Friday Eve all even though I'm a little pouty since College Boy will leave tomorrow to go back and finish up his last semester of college! It's been a great visit and hard to believe he'll graduate this year!
Lots of great shares at last week's party. Here are just a few:
Let's start off with this faux patina monogram from
A Creative Princess
. Love the combination of paint and distress inks.
How about this gorgeous metal stamped bracelet from
Pitter and Glink
? Perfect Valentine's gift.
Plastic water bottles. I know we're supposed to hate them but they are a necessary evil in my life and I'll bet I'm not alone. I try to minimize and re-use and
Mich in LA
has a great way to keep track of yours on the go with this gorgeous beaded strap holder!
The name of this week's chocolate feature from
Her Organized Chaos
speaks for itself doesn't it?
Now on to this week's party!