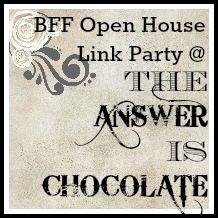 Happy Friday Eve and Fourth of July Weekend! Hope everyone's had a great week and soccer fans are recovered from the nail biting USA-Belgium World Cup game. I didn't set out to have all jewelry features ( well except for this week's chocolate feature) but think you'll agree they're pretty cool.
Let's start with this ingenious creation from
Mich in LA
, the creative genius who can turn anything, and I do mean ANYTHING , into a gorgeous piece of jewelry. This is no exception. You'll have to check out her blog for the deets.
This week's chocolate feature combines the classic flavors of chocolate and peanut butter. Is that ever a bad thing?