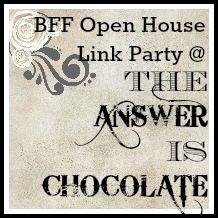 Happy Friday Eve once again and Happy Mother's Day weekend :) Hope everyone's had a great and productive week.
As always, let's start with a few features from last week's party.
I made a bird's nest pendant for a necklace and never even thought to make a bracelet! Ashley from
3 Little Greenwoods
did and didn't it turn out gorgeous?! Go check out the tutorial.
Can you believe this awesome chair is Christal's first DIY project? I think it turned out great. You can see the "before" over at her blog
SimplyZaspy
.
I love transferring photos to things and this technique using Mod Podge and tissue paper is one I haven't tried yet. Really like the muted effect. Visit Jennifer at
Mondomom
for the how to.
OK this week's chocolate feature is one that I'm not sure I should know how to do. Homemade Oreo Cakesters:
On with this week's festivities!