For Halloween. At least I think so. I mean people keep coming up with such inspiring ideas and there are some great link parties like this one at A Fish Who likes Flowers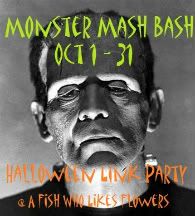 Or this one at Midwestern Sewing Girl:
So Mr. Chocolate, if you read this….NO PROMISES! But for now, I've got my halls decked…er haunted. Last year I started muting my color palette which I continued this year:
Mantel:
Mr. Chocolate knows me well and got me the the WIcked Witch ornament from The Wizard of Oz collection early enough for Halloween
Powder Room:
My Spider Web Glass block now lit up!
An eerily realistic looking skull (sun made for a bad pic) I picked up at Big Lots for $2, He's wearing the hat that yes, thank you very much, I did wear all around Disneyland!
Where else do you keep glow in the dark skulls if not in an apothecary jar?
Coffee Table
"I'm dreaming of a White…..Halloween" Mr. C. strikes again surprising me after Christmas last year with these cute ceramic luminaries he found at a store that was closing.
Blown glass pumpkins we found out of season on a trip somewhere. A wooden pumpkin cut out that I painted and lettered years ago.
Bears
My husband's dad gave us this antique piece which came from my late mother-in-law's family. My mother in law loved Starbucks, and these are some of the Harvest / Halloween bears they've had over the years. Thought it was the perfect place for them !
Thanks for coming on my little tour! Off to check off some other things I might have to add!