I'm so excited! It's time to launch my WEEKLY link party combined with one of my favorite parts of blogging: Blog Feature Friday. If you're a newer chocoholic here at TAIC, I've been doing a monthly Open House link party and a weekly series featuring a "BFF" …Blog Feature Friday. As I celebrated my one year anniversary of blogging, I decided to combine them.
First up, this week's BFF: Amy from
Ameroonie Designs
.
In addition to being just a total sweetheart, Amy is a talented creator of so many things, not the least of which are her amazing bags and accessories…something yours truly was so lucky to recently win! YAY!
Channeling my inner 2 year old: MINE MINE MINE
Gorgeous! And she makes these! But that's not all she makes. Too many treasures to feature but look at these adorable Teacher Appreciation gifts:
"Bloom Pencil Bouquets".
Practical, thoughtful and pretty. My kind of project. But in addition to being a talented creator and a busy wife, and mom of four, she's also an inspiring writer. She wrote a post on her recent "Creative Estates" experience that just resonated with me SO much I had to include it as a feature. I would encourage you to read it:
Definitely go visit Amy and show her some bloggy love! Now, on to the party details! Link up…everything! Provided you made it…no selling or Etsy shops please. Cards, Scrapbooking, Mixed Media…link it. DIY, Re-purposed, upcycled, thrifty score…link it. Jewelry, clothing, accessories…link it. Recipes, ESPECIALLY chocolate…link it! Please make sure you link to your specific post and not your main blog page.
Oh yeah…GIVEAWAY!!!! To celebrate my one year blogi-bloga-however you spell it versary….I'm giving away a few of my favorite things! Me and Oprah. No cars though.
I've gotten lots of comments on altered candle projects I've done , so the winner will get:
Altered candle with Bronze key
But I also wanted to share some of my fave fave things I've used in other projects. In addition to the candle, the winner will get:
An assortment of some of the things I almost always incorporate into my projects! KandCo Paper, dimensional stickers, die cuts, self adhesive scrapbook borders. Assorted rub-ons, self adhesive pearls and rhinestones, typography packing tape and Mod Podge! A creative kit in a box!
To be eligible for the giveaway, you
must
leave a comment ( MANDATORY). Additional entries (leave a comment for each thing you do) for:
Being / becoming a follower of The Answer Is Chocolate
"Like" The Answer Is Chocolate on Facebook
Link something up to the party
Follow The Answer Is Chocolate on Twitter
Spread the word about the BFF Link Party
That's 6 ways to win!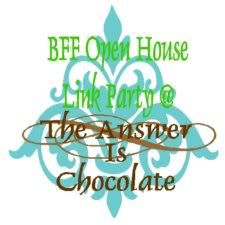 OK whew! Now…ready, set, LINK UP!!! Party will run through Sunday night midnight. The winner of the giveaway will be selected on Monday 5/9!