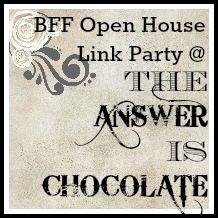 Happy Friday Eve all. Another week and time for another party! Some great ideas from last week's party and with St. Patrick's Day just a week away, I thought I'd share some fun ways to celebrate.
Let's start with these fun medallions from
Lynda Creates
. You'll never guess what she used for the base of these. I bet you won't!
Lynda's idea would be great interspersed with these Captured Clovers from the guys at
Crafty Lumberjacks
. How did I miss these jars at Michaels?! The gold beads are the perfect touch.
If like me, you're not exactly a corned beef and cabbage lover but you still like to make a festive St. Patrick's Day dinner, you could add these bacon wrapped asparagus bundles shared by
Margaret's Morsels
. These are perfect for Easter too. Let me say again...bacon wrapped. Bacon.
Of course you need a fabulous dessert to finish off your St. Patrick's day meal so how about this Deluxe Chocolate Cheesecake ( maybe with some Bailey's?) which you could finish off with an Irish coffee! From Kimberly at
Lou Lou Girls
.
On to this week's party!