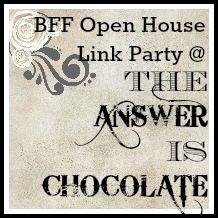 Happy Friday eve all and happy SEPTEMBER if you can believe it. I'm still trying to digest the fact that College Boy started his senior year of college this week. I remember writing about when we first dropped him off. Yikes!
Hope you all had a nice Labor Day weekend and those of you kids off to school this week ( little or big, kindergarten or college) did so w/out too much anxiety.
Fun ideas from last week's party:
I know how excited a lot of people are about the early return of Pumpkin Spice Lattes at Starbucks. So this one's for you pumpkin fans...if you want to save but still want the PSL experience, visit
Crafty Lumberjacks
for their super fast recipe.
Alayna's Creations
shared a two in one holiday project that will get you through from Halloween to Thanksgiving. Double sided wood blocks! Genius.
Speaking of two in one projects this week's chocolate feature is paired with another great fall idea. How cute are these football themed snack bags? Only made better with the Snickers Pretzel Snack mix that goes inside. Who needs game day?
Now on to this week's party!