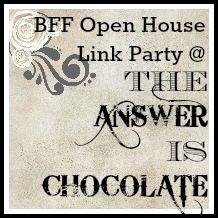 Happy Friday Eve once again creative peeps. Can you stand it? It's MAY already and Mother's Day will be here in the blink of an eye. It's been another busy week here ( not so much on the creative front) and you all were busy at last week's party!! Here are some of the highlights.
I always love to see creative blogger knock off projects from places like Pottery Barn. Don't get me wrong...I love PB but fess up, how many of you walk through there and think hmmm bet I could make that? Bethany at
Pitter and Glink
knows what I'm talking about because she did just that with this Welcome mat.
With Mother's Day coming up, you will want to check out Fonda's roundup of gifts to make for Mother's Day. These could work as teacher appreciation or gifts just because. Visit
Southern Scraps
for the rest!
Have a fireplace that you don't use? Want to learn how to "tuft" something? Both? Check out this great idea from
Garage Sales R Us
. Would you have guessed this started out as a garage sale find?
This week's chocolate feature is really 15 features in 1 thanks to the (dangerous) Stuffed Brownie Roundup that Cami from
TitiCrafty
put together. You've been warned!
Now let's see what you've been up to this week!