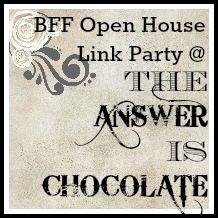 2014 shows no signs of going any more slowly than 2013. College Boy left today to go back to school for Spring semester. Didn't even totally lose it at the airport (me, not him!) . Progress.
You all are no less busy in 2014 either so here are a few features from last week's party and of course can't wait to see what you've got in store this week!
One of the movies we saw when College Boy was home was "Anchorman 2" so it was perfect timing when Rachel from
Holy Craft
linked up this Ron Burgundy shirt.
OK fess up creative bloggers. How many stores like Pottery Barn, Williams Sonoma, Ikea, West Elm do you walk thru with a monologue in your head "I can make that". I know I do and Andrea from
Decorating Cents
does because she made this awesome West Elm inspired frame for next to nothing. Love it.
I can't grow flowers to save my life so paper flowers are my friend. Plus they last longer. Debbie from
One Little Project At A Time
has a great tissue paper tutorial.
The picture above speaks for itself doesn't it? Actually, it screams OMG MUST HAVE NOW to me. Classic toffee from Charlie at ( and I love the name of this blog)
Pickled Okra
.
On to this week's party!