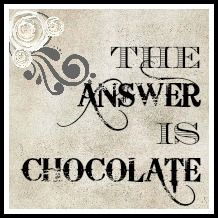 Hope the first official week of Fall was a good one for you. Here we are on the cusp of October which is hard to believe. The crafterverse is in full creative mode so here are a few features from last week's party that inspired me.
You all know I have a slight paper addiction. I'm looking forward to using some of mine up making a big bouquet of these paper flowers from
Artsy VaVa
If you need an easy way to bring some fall into your home, check out this idea from Fonda at
Southern Scraps
. Wouldn't this look great next to some confetti pumpkins?
This week's chocolate feature speaks for itself. Chocolate truffles from the aptly named blog
Dieter's Downfall
. Resistance is futile.
OK let's see what you all have been up to this week !